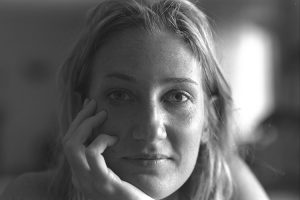 "I was born with congenital hip dislocation, I went through several operations, and I could not walk until I was three years old. So, to entertain me, my mom posted stories on my bedroom walls. She always read them to me. I think it all started there. Besides, my mom was a philosopher and a poet, so I do not rule out a genetic explanation"
Paola Yannielli Kaufmann, Argentine writer and PhD in neurosciences, was born in the city of General Roca (Río Negro) on March 8th, 1969. She lived part of her childhood and adolescence in the town of Brinkmann, Córdoba, and in 1986 she moved to Buenos Aires to study Biology in the UBA (University of Buenos Aires). After graduating in 1993, she obtained her doctorate degree in neuroscience in the same university. During those times, she attended Abelardo Castillo's Writing Workshop for four years. From 1999 to the end of 2001, she lived in Northampton (Massachusetts, USA) where she got a postdoctoral degree in Smith College and wrote her first novel, "The Sister". During the period between 2002 and 2003 she resided in Albuquerque (New Mexico, USA). Paola used her maternal last name to sign her literary works and used her paternal last name to sign her scientific publications. Once back in Buenos Aires, she worked as a Science researcher at CONICET and at the University of Quilmes, and devoted to writing fiction. She died in September 2006.
In 1998, she received a mention in the ´National Fund of the Arts Award´ for her storybook "La noche descalza" (The Barefooted Night)

In 2002, she won the National Fund for the Arts Award for her short story book "El campo de golf del Diablo" (The Devil's Golf Course)

In 2003, she won the prestigious ´Casa de las Américas Award´ for her novel "La hermana" (The Sister), about the life of the writer Emily Dickinson

In 2005, she received the ´Planeta Award for Best novel´ for her work "El lago" (The Lake)

In 2010, her family published a posthumous book of unpublished stories, "El Salto" (The Leap)

Several of her stories were included in shared publications.
"In me, Writing is using all (that) I am."