Links, Notes, Articles
ABOUT HER PUBLICATIONS
El Lago
La hermana
El salto
El campo de golf del diablo
OPINIONS
About her publications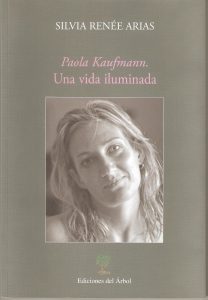 Paola Kaufmann, an enlightened life.
Silvia R. Arias narrates us in "An enlightened life" moments shared with Paola Kaufmann, biologist and prominent writer. They met when Arias joined the Master Abelardo Castillo´s literary workshop, where Paola was already attending, in 1997.
This book provides us with biographic data and links them to anecdotes and memories that allow us to picture Paola´s unique personality, who astonished with her acid sense of humor, her intelligence and her thoughtfulness.
The narrative covers until the last days of her loved friend. Her book is a valuable contribution in an attempt to "repair the destroyed reality".
News and presentations about Paola